JMA Legal has been providing trusted, expert legal solutions to businesses, individuals and families for more than 140 years in the Cootamundra, Gundagai, Tumut and Junee districts of New South Wales and more recently in Sydney and around NSW generally.
Our longevity is based on our fundamental belief that our clients are at the core of everything we do. We are open and honest in our dealings with clients, referrers and fellow employees. We listen to and respect each other while working together to achieve the best outcome for our clients. We act with integrity. Always.
We strive for excellence and quality in everything we do and tailor solutions to meet each individual client's needs. Consequently, the firm has grown, building business and personal relationships across NSW and supporting our philosophy of giving back to the community.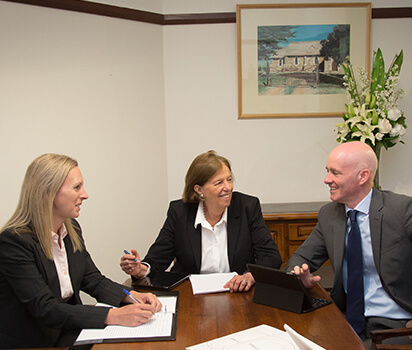 JMA Legal is a unique law firm in that we are specialised in business law and have a tax accredited specialist amongst our lawyers. Based in regional NSW but with a Sydney presence too, we advise on complex tax issues that arise in transactional matters to ensure our clients are properly informed to assist them financially.
We also have the capabilities to help clients in different sectors and with a range of legal needs, particularly:
Local people & Private clients
Personal services in those areas that are of utmost importance when buying your home or investment property, making your will or dealing with a death in the family. We can assist, regardless if the matter is small or large, simple or complex.
Small, medium sized enterprises & Family businesses
Practical commercial advice delivered promptly by lawyers who are accessible to you. As your trusted advisor we understand your business needs and your personal priorities without losing sight of protecting your legal position.
Public companies & Large businesses
Advice in the crucial stages of setting up a business and selecting the right structure, growing it through acquisitions and restructures and retiring from the business, whether by selling or handing it over to the next generation.
Agribusiness
Clients service from lawyers who combine a genuine knowledge of the rural sector with expertise in important areas such as water law, rural property conveyancing and supply contracts.
Consultancy to other professional service firms
Our lawyers provide expert specialist services to professional service firms all over NSW, including entity and transactional taxes, to accountants, lawyers, management consultants and financial planners.
JMA Legal have been looking after my personal and business requirements for many years now. I am extremely happy with the service provided by them. They have a very well structured team that has been able to offer excellent service on various issues and I would highly recommend them.
Matthew Lane, Farmer and Grazier.
As a tax practitioner I am delighted to receive JMA Legal's tax and legal publications. They are amusingly written but also convey clear lessons to professionals and clients that the work we do is not easy.
Mark Holman, Chartered Accountant
I have worked with Jim Main and his firm and precedent firms, predominantly in the SMSF and estate planning area for over 25 years. I have no hesitation in recommending Jim and his firm.
Joseph Gluck – Chartered Accountant
Speaking from personal experience, when you have a legal problem involving a business, farm, will, taxation or property transfer, see JMA Legal for an innovative, efficient and effective solution.
David Hain
Jim and his team have helped my clients for at least, a few decades. Their experience and capacity to cover tax and commercial law has been hugely beneficial. So too their service.
Rob Brown, Director & Consultant Peppin Planners
Our firm has relied on the legal advice of JMA Legal for many years. Jim Main and his team are well respected by the legal profession.
Jim has been able to find practical solutions and make recommendations on many issues, from family succession plans generally, as well as for our high wealth families on complex intergenerational and succession planning matters, to advice on income tax and capital gains tax implications.
Kevin Rankmore, Partner Ryan & Rankmore Chartered Accountants
Over the past 13 years Margot Gill and her team at JMA Legal have acted for me in my capacity as director on the sale and purchase of numerous rural properties, water access licences and as lessor and lessee. I am very happy to recommend JMA Legal for matters associated with the rural industry.
Richard Taylor, Company Director
Tester Porter Services have had mutual clients with Jim Main and the team at JMA Legal for many years. I have found the advice and professionalism to be of the highest quality, proactive and given with a clear understanding of our client's legal position and objectives.
John Bowring, Partner Tester Porter Services